WinLoG RT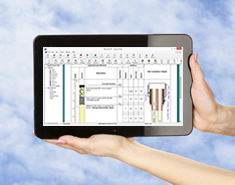 WinLog RT can be used to quickly and easily create, edit and print boring and well logs for a variety of industries.an be used on tablets, laptops and desktops that have the Windows operating system. The user interface has been specifically designed to make data collection easier on tablets and laptops.
WinLoG RT can be used separately or as a field extension of the WinLoG/GaeaSynergy application. When used separately it operates very similar to WinLoG version 4. All of the data is stored on the local device and the logs can be printed directly from the local device. WinLoG RT can be used completely independently of
WinLoG
and does not require any other software.
When used in conjunction with the network version of WinLoG/GaeaSynergy, WinLoG RT can act as a remote data collection device for boring and well data. The data collected in the field can be sent to the network as an Electronic Data Exchange (EDI) file. In addition, boring and well creation tasks can be automatically sent to personnel using WinLoG RT.
WinLoG and WinLoG RT are used to improve and standardize environmental data collection, management, and reporting in an efficient and cost-effective manner. This is accomplished by implementing a documented, auditable process for the collection, storage, and reporting of boring and well data. WinLoG RT can be used as an entirely separate and independent program or in can be used in conjunction with the network version of StrataExplorer/WinLoG. When used with the network version, WinLoG RT can receive task notifications and exchange data with the GaeaSynergy/WinLoG network.
To display more information or purchase the software, select the industry version below.
Our Products
Our services
Shopping cart
Account

Login Status
Not logged in
»
Login