WinLoG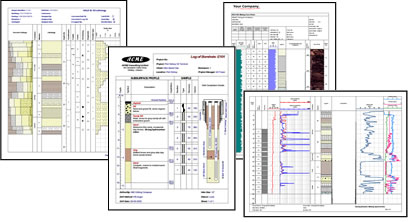 The WinLoG extension module of GaeaSynergy can be used to quickly and easily create, edit and print boring and well logs for a variety of industries. WinLoG is used by more than 3000 firms in more than 120 countries worldwide. Boring and well logs can contain optional headers and footers and a large variety of depth related column data. The types of columns available depend on the industry and can include lithologic descriptions and symbols, well data, sample and core data, geophysical data, lab data, etc. Each industry version of this module has been specifically designed with data types and columns tailored to that industry.
Some of the new features include:
• Projects can have polygonal boundaries as well as rectangular boundaries.
• Integrated with GDMS and can display geotechnical test results in logs.
• Integrated with EDMS and can display lab analyses in logs.
• Higher resolution bitmaps can be used for lithologic symbols.
WinLoG and WinLoG RT are used to improve and standardize environmental data collection, management, and reporting in an efficient and cost-effective manner. This is accomplished by implementing a documented, auditable process for the collection, storage, and reporting of boring and well data. WinLoG RT can be used as an entirely separate and independent program or in can be used in conjunction with the network version of StrataExplorer/WinLoG. When used with the network version, WinLoG RT can receive task notifications and exchange data with the GaeaSynergy/WinLoG network.
To display more information or purchase the software, select the industry version below.
Our Products
Our services
Shopping cart
Account

Login Status
Not logged in
»
Login